West Point Alumni Glee Club


"No fun without music; no music without fun!"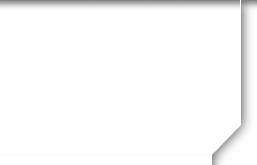 Not a member?
JOIN HERE
Find and click on your name.

West Point Alumni Glee Club
40171 Braddock Road, Aldie, VA 20105
(703) 973-8731
"No fun without music; no music without fun!"
NEXT PUBLIC PERFORMANCES:
75th Anniversary of D Day, Bedford, VA, June 7, 2019 7 PM
---
MOST RECENT PERFORMANCES!
Patriot Colony, Williamsburg, VA
---
IRELAND TOUR JUNE 10 to 17, 2018 "American Veterans Honor Irish Veterans In Song"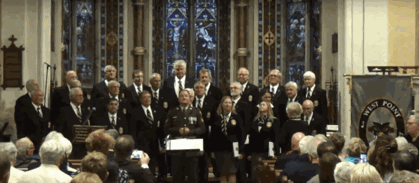 June 12 (Kinsale), June 13 and June 14 Killarney
Special Guest Performer: SGT David Martin Irish Tenor
David leading the WPAGC in God Bless America
---
Johnny Vet: Freedom Isn't Free 11/18/17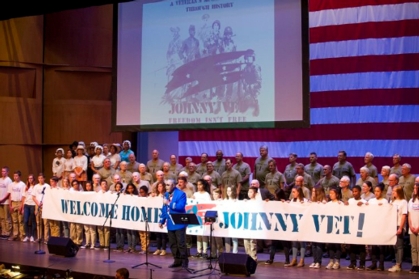 ---
George C. Marshal House, Leesburg, VA, 11/11/17
The West Point Alumni Glee Club and Reunion Glee Club singers appeared on Fox and Friends, February 17th and sang "Testament of Freedom" at Carnegie Hall on February 19th. Thanks to all who attended and listened!
About Us: In July 2007, 156 graduates of West Point, from the classes of 1952 through 2001, gathered for the first ever Glee Club Reunion Concert at Trophy Point with the USMA Band. Springing from the camaraderie and success of that event, the West Point Alumni Glee Club was established in the Fall of 2007 to carry on the rich legacy of singing patriotic and inspirational music, a significant element of the Warrior Spirit.
Membership in the West Point Alumni Glee Club is limited to West Pointers who enjoy singing and believe in the importance of traditional music in our service to the nation. Our members average almost 20 years of active duty service with over 75% being combat veterans. Our motto continues to be "No Fun Without Music; No Music Without Fun." Our goal is to spread the love of music among warriors, to sing for veterans, servicemen, and their families, and to generate funds to provide additional support to the Cadet Glee Club that will enable them to travel further and perform more as ambassadors of West Point and the Army.
If you have an interest in supporting or joining our Alumni Glee Club, please contact Terry Ryan '65 at tcryan@i2xllc.com or at (703) 973-8731.
Thank you!
THE BILL COSBY AWARD IS FULLY FUNDED IN PERPETUITY NOW! THANKS!
UPCOMING BIRTHDAYS